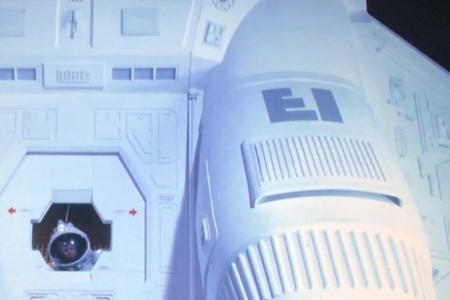 Escape One Shuttlecraft
Spacecraft, Vehicle
Year 2122
Designed for escape purposes only, the Escape One (E1) shuttlecraft can separate from its mothership and, with its limited interstellar capabilities, can support a crew of four for up to six months active, or indefinitely in hypersleep, until help can be provided.
The E1 is equipped with the latest homing beacon distress signal. Automatically triggered on launch, this systemized signal is detectable by Comm Scan Network transponders located around the explored region of the Core System.
All operational and diagnostic logs from the mothership are downloaded to the shuttlecraft's flight box recorder both as a system backup and to provide emergency investigative support.
Overview: The E1 Logo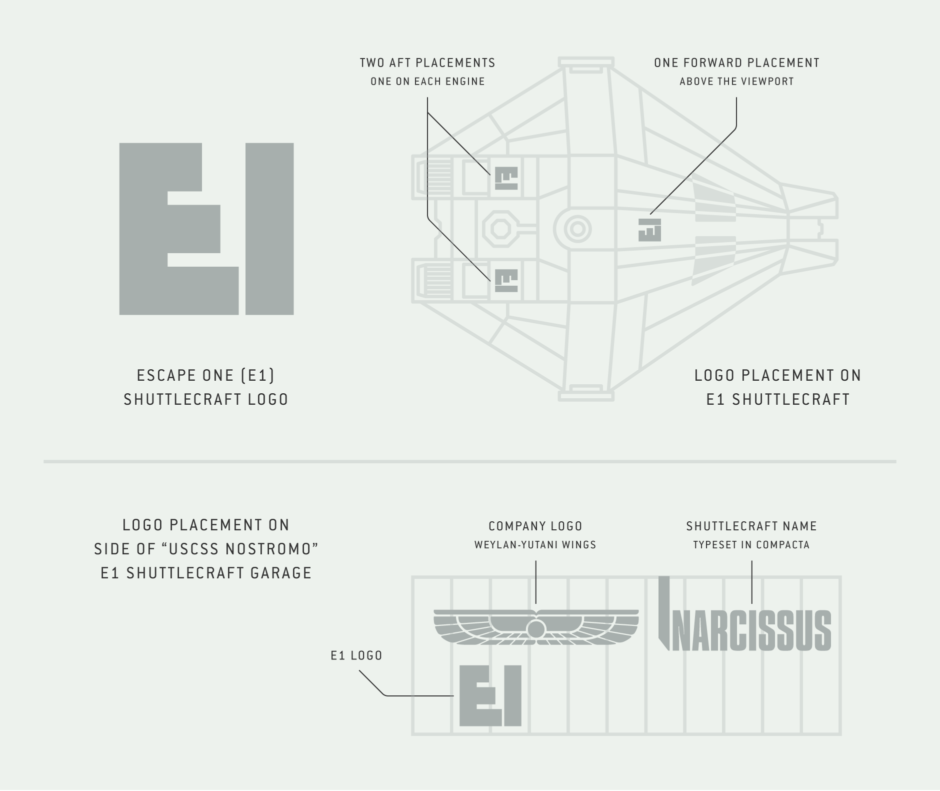 Analysis: The E1 Logo
The logo for the Escape One Shuttlecraft is a typographic mark, abbreviating the model's name with the letter E and number 1. The distinct feature is the stair stepped cropping of the horizontal bars in the E. As seen in the film Alien, the logo appears in three places on the shuttlecraft (Figure 1.1), and on the sides of the "garage" housing the shuttlecraft below the USCSS Nostromo mothership (Figure 1.2). E1 also appears along the lower edge of the viewport on both sides of the craft (Figure 1.3), but it is not the logo — instead, it is typeset in Eurostile Extended Bold.
My description of the shuttlecraft was quoted from the Halcyon model kit for the Narcissus, from their "Movie Classics" line that was released in the late 80s and early 90s. And while the spacecraft was based on a Ron Cobb design, it's not clear who credit for the logo goes to, so that explains my entry listing the designer as "unknown."